The RISE with SAP, a new offering from SAP, has been gaining more interest among the SAP clients and practitioners in recent ages. The point to be discussed is whether RISE with SAP is a service or a product, whether it is meant only for the SAP clients and partners, or if it includes third parties. Thus, SAP users might come up with such common questions as this term is relatively new.
This article will provide a clear concept regarding the RISE with SAP, its advantages, and other necessary points.
What is RISE, and what does it mean?
We can describe the RISE with SAP as a pack-up of existing SAP acquisitions; that emphasizes delivering clients and partners with business transformation-as-a-service. It is not a product. In SAP, RISE with SAP is a Go to Market (GTM) action having three central pillars. These are business process modification or transformation, infrastructure run processes, and switch to S/4HANA.
The RISE with SAP, the latest offering from SAP, presents a great variety of options regarding moving the SAP applications to the cloud and the latest modes of working with S/4HANA. Clients can now purchase Software-as-a-Service (SaaS) instead of having it outright. It intends to encourage such customers to embrace a subscription model. Also, it influences customers to carry on the latest version of the SAP S/4HANA, Enterprise Resource Planning (ERP) software.
SAP is advancing to the challenges with fast innovation to achieve digital transformation demands and requirements of the customers. Since the pandemic crisis accelerated business models and technologies, and thus RISE with SAP is flourishing at the top. This RISE with SAP offering helps clients and third parties to investigate further and tap the opportunities available in this ecosystem.
Is RISE an additional drive by SAP to the cloud?
As we have discussed, the RISE with SAP is the latest go-to-market offering promoted by SAP. Yes, it is an additional drive by SAP to the cloud. RISE with SAP gives a subscription service offering that integrates a collection of services and products. The primary feature of the RISE with SAP is the S/4 HANA Cloud edition, which privileges consumers' cloud infrastructures to work in the SAP data center.
What is included in RISE with SAP?
The RISE with SAP contract includes software, Infrastructure as a Service (IaaS), and the company's S/4HANA Cloud ERP. It further provides other domains like implementing services, access to the SAP Business Network, SAP partner-provided migration, which comprises Ariba, and competent business process reengineering. SAP's recently acquired process-mining faculty supported this.
If a customer chooses to move to the RISE with an SAP contract, their business will trade with supervision for a bundled subscription model and perpetual software licenses with their preference of hyperscaler Infrastructure, all of which comes under a single contract. The RISE with SAP has four typical services cum software features to the RISE product offering.
A RISE with SAP package includes the following five core elements:
Embedded services and tools
Cloud ERP
SAP Business Network starter pack
Business Process Intelligence starter pack
SAP Business Technology Platform (CPEA credits)
Let us take a more in-depth look into what the RISE with SAP includes:
1. Technology Networks
Many clients use the SAP Cloud offerings like the RISE with SAP and many more. The system of communication links technically connects through the use of network technologies. The end-users connect to the data centers via Wide Area Networks (WAN).
It also connects the Internet of Things (IoT) applications embedded in all types of gadgets and machines through WAN. The system uses fast Local Area Networks (LAN) to interconnect various servers inside these data centers. The starter packages of RISE with SAP include Asset Intelligence Network and Logistics Business Network.
The RISE with SAP contract offers a business a kick-start into their Intelligent Enterprise. It renders access to the SAP Business Technology Platform (SBTP).
2. Tools and Services
Based on a customer's deployment scenario, SAP gives RISE to such customers for further undertakings or a technical moving into the S/4HANA Cloud environment. Furthermore, organizing, planning, and managing a technical migration can be difficult. Thus, SAP caters to a wide range of tools and services to clients and partners that assist with the analyzing process for the existing SAP systems. It handles changes and risks associated with the management and sustain a flawless migration to SAP S/4HANA.
SAP offers a wide range of tools to distinguish the latest technologies & their capabilities for better and effective communication and identify value for the customers' business that can ultimately gain its corporate or departmental plans and objectives.
3. Helps in Building an Intelligent Business
In addition to the SAP S/4HANA Cloud software subscription, RISE also includes a client's choice of a hyperscaler infrastructure when they buy a subscription to the RISE with SAP. The contract also offers a wide range of technical management services that SAP will provide against agreed-upon Service Level Agreements (SLAs).
4. Business Process Redesign
SAP offers various tools that render a Process Discovery report. This report studies current business KPI benchmarks and outlines the essential features within the S/4HANA Cloud software. It thus improves, optimizes, and ameliorates current in-use business strategies.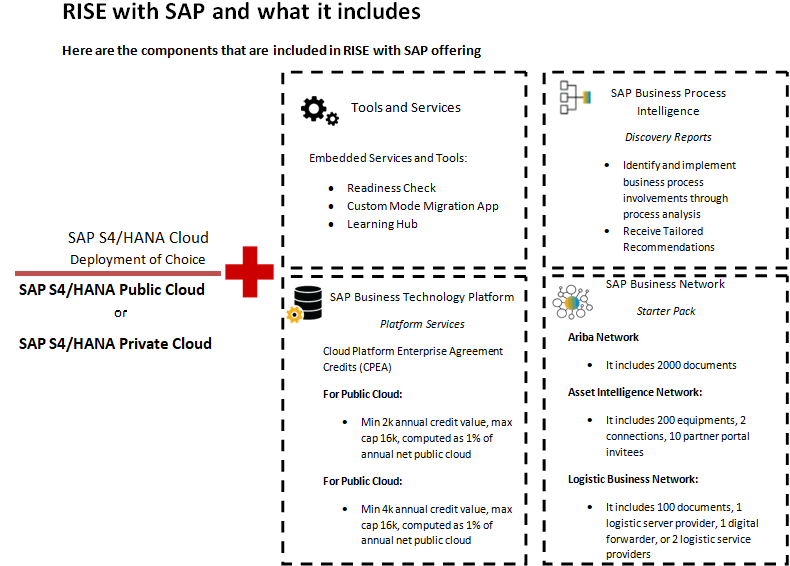 Why choose RISE with SAP?
The RISE with SAP allows businesses to get initiated with cloud SAP solutions. It stabilizes and speed-up cloud adoption as it brings a lot of presumption and guesswork license assets out of business planning. It also delivers clients with all the tools they require.
Benefits of the RISE with SAP:
RISE with SAP has a wide range of benefits. These are:
1. Business benefits for enterprises
The RISE with SAP has an adverse benefit for companies regarding their businesses. Companies can quickly complete the individual transformation with the RISE with SAP service.
2. The deduction of intricacy regarding the contracts, operations, and business strategies
RISE with SAP is closer to simplicity. The process comprises only one contract that is much beneficial for a company. This contract manages collaboration with SAP and thus governs with one partner for software, infrastructure operation, license, and technical benefits.
The offer of the RISE with SAP applies to companies of all categories, enterprises, and sizes. The companies prefer the pace, starting point, and the operating model of RISE with SAP that best suits, whether private or public.
3. The continuous and escorted transformation of businesses
RISE with SAP provides ongoing support to companies because the change with rising with SAP is not apprehended as a project but as a steady process.
4. RISE with SAP Improves the Service Experience with cloud delivery abilities
RISE with SAP vows one single part, i.e., the SAP to sustain software and technically manipulated services. It facilitates business by reducing the governance cost and effort, authorizing IT personnel to focus better on strategic schemes instead of routine task management.
5. Efficient Management
With cloud delivery capabilities, it has become efficient and more manageable to devour the latest innovations at a higher frequency with a minimum crash. It crushes the loss of business because of the hindered resolution of unexpected system downtime.
What does RISE mean for the present and future SAP customers?
The RISE initiative has made this attainable to empower clients using SAP solutions to fulfill their necessities and prerequisites. The transformation process becomes incredibly smooth using the RISE with SAP, as companies can utilize its full potential.
Earlier, enterprises used to do the business transformation by exiting current legacy systems and strategies behind. But now, the opportunity to switching from the existing process to SAP S/4HANA Cloud exists. It lets the client solutions and add-ons in performing smoothly in the cloud.
RISE with SAP plays a significant role in assisting companies in gaining higher digital flexibility and efficiency. Recent developments have conveyed the significance of digitizing the company strategies and plans and how companies and enterprises that use the proper analytics tools and cloud have efficiently scaled their business growth.
Conclusion
In this article, we have attempted to make clear what the RISE with SAP includes and where clients can believe they will need an SAP associate to increase their business growth. Hopefully, the article has catered to a reasonable understanding of which plans and tools will be efficient for your business through the RISE with SAP solutions.