Most mid-level companies and subsidiaries look to invest primarily in their marketing strategies. They also spend most of their budget on avenues that bring more income. These companies may not have the capability to spend on high-end technical infrastructure. Thus, they look for affordable ERP solutions that are packed with all the required features.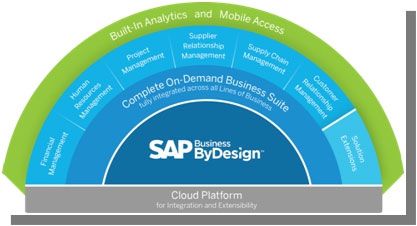 SAP Business ByDesign is the perfect software for these companies. This enables companies to handle all business operations such as project management, supply chain, and human resources.
In this article, we will discuss all the features of SAP Business ByDesign in detail.
What is SAP Business ByDesign?
SAP Business ByDesign is cloud and subscription-based ERP software for small and medium enterprises. It can be considered as an all-round software solution.It is a complete and integrated tool that is capable of running most parts of an organization such as human resources, financials, sales, procurement, supply chain, customer services and so on.
The SAP Business ByDesign software covers various aspects such as –
Human Resources Management
Supplier Relationship Management
Executive Management Support Financial Management
Customer Relationship Management
Supply Chain Management
Project Management
Compliance Management
Business Intelligence
The software is developed on the principles of SOA (Service Oriented Architecture). It is built on SAP HANA and uses FIORI UX (SAPUI5) concept. The software offers streamlined processes and can adapt to changing business requirements. Plus, it is mobile-friendly software. So, employees can work on it from multiple devices easily.
SAP Business ByDesign is delivered on-demand. This is handled and monitored by SAP professionals. All your data is safely stored and processed in SAP's world-class data centres. So, if you are an owner of a medium-scale company, no need to worry about software upgrades.
History of SAP Business ByDesign
The launch of SAP Business ByDesign was announced by SAP on 19 September 2007. Initially, it had a code name called "A1S". Since then, it has undergone quarterly upgrades. It has been running on the SAP HANA Cloud Platform. This means its database and apps run on the SAP HANA in-memory database.
Functionalities of SAP Business ByDesign
The key functional areas of SAP Business ByDesign are –
The software enables companies to obtain a real-time view of their financial situation. They can easily manage the accounts for currencies, reporting standards, and other operating units. Furthermore, officials can understand the company's cash position by analyzing the customer and supplier's transaction data.
Human Resource Management
SAP Business ByDesign helps companies to manage their organizational structure and human resource activities. It offers the following facilities –
Employees can manage their time-sheets, personal data, and procurement processes
The software has simple interfaces that simplify payroll processing
Create and manage purchase requests and approvals
Using this software, you can view the complete manufacturing operations in real-time. It helps in enhancing manufacturing efficiency. This also offers you the facility to manage your customers using their data.
For meeting market demands, the software solution partner and channel management.
Inventory Management is essential for any company to monitor the goods they have in store. This is a very important supply chain activity that is made easier by SAP Business ByDesign. The software helps in reducing operational costs, by optimizing the company's inventory.
The software enables organizations to streamline their purchasing activities. You get to analyze the purchasing data in real-time. This lets you interact with your retailers and negotiate prices. It also allows you to develop better strategies for purchasing management.
Quality management is monitoring the quality of operations in a business. SAP Business ByDesign enables companies to manage, control, and improve business processes. It also lets officials determine whether the business operations meet industry regulations. All this leads to an improvement in business performance.
When it comes to sales, SAP Business ByDesign offers a complete view of the customers. Businesses can take effective decisions using metrics and reports. Creating quotes and price calculations is easier with this software. You can enter shipping and payment data to create invoices and sales orders.
The software ensures that product designs meet customer requirements. It also helps in speeding up product marketing times. Using the solution, the product development processes are monitored. This leads to the creation of better products.
Advantages of SAP Business ByDesign
The top benefits of adopting SAP Business ByDesign are –
Being cloud-based, the software takes less time to get up and running. This saves a lot of time and money. Moreover, companies don't need a large IT team to handle cloud operations. As SAP handles all of it, you are always updated whenever any new software upgrade or patch releases.
This software comes with a monthly subscription and covers the maintenance fees. The price is affordable and a lot less than maintaining a big IT team. It is great for companies who are in their early stages of development.
It is easy to use for all types of employees, even the ones without IT expertise. This offers a simple user interface, easy navigational controls, integration with MS Office, and many other features. Plus, there are built-in support tools and help that will assist in using the software.
The software offers a clear view of all processes of the sales life cycle. It offers a centralized platform for all employees to access sales data. This leads to better decision making, processing sales orders, providing quotes, and verifying product availability.
As mentioned earlier, SAP Business ByDesign offers a comprehensive view of customer information. This enables companies to deliver better customer experiences. Furthermore, user expectations are met.
Pricing of SAP Business ByDesign
SAP Business ByDesign is available for a monthly subscription. The price is based on a base package, several users, and user types. There are 3 user types - Self-service user, Core User, and Advanced User.
This software comes with a $1670 Base Fee per month. This includes 3 Core users and 2 Advanced users. Monthly prices for different users are –
Advanced users - $199 per user/per month
Self-service users - $20 per user/per month
Core users - $110 per user/per month
Read Here About: SAP Business ByDesign Pricing
Conclusion
For years, SAP Business ByDesign has been providing transparency to business operations to firms. Real-time data handling by the software has helped companies develop better strategies. Plus, being a comprehensive cloud ERP solution, the return on investments is also high.
Other SAP Business ByDesign Important Resources