Full form or SAP EAM stands for (Enterprise Asset Management).
For any business, Enterprise asset management (EAM) is an important process of managing all the physical assets. These assets include heavy equipment, technological equipment, and vehicles. This helps the companies to maximize their potential, save time and money. The process also optimizes business risks and reduce risks.
But this process cannot always be carried out on a desktop using spreadsheet software such as MS Excel. Thus, companies need efficient software to handle all phases of enterprise asset management. And, one of the best EAM software in the market is SAP EAM.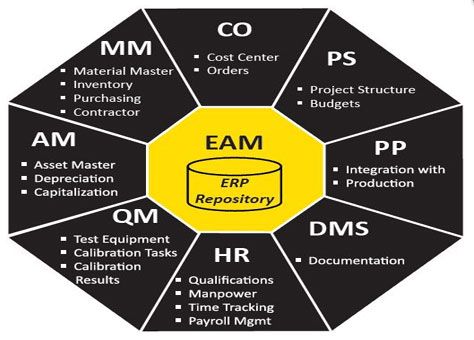 In this article, we will talk about the various features, advantages, and functionalities of SAP EAM.
What is SAP EAM?
SAP EAM is a powerful software that offers real-time visibility to the entire EAM lifecycle. This allows officials to determine which EAM processes are properly being carried out and which are not. SAP EAM assists in the service and maintenance of machinery. Companies can better design these maintenance processes.
Important features of SAP EAM are –
Planning recurring tasks such as maintenance and checking of equipment
Scheduling and capacity planning
Processing internal and external tasks such as cost tracking
Collects and tracks equipment information in the cloud
SAP EAM offers a centralized repository for equipment tracking and performance analysis.
Functions of SAP EAM (Enterprise Asset Management)
SAP EAM maximizes the health and performance of the physical assets of any organization. It has a whole range of asset management software systems. Below are these systems ad their functionalities –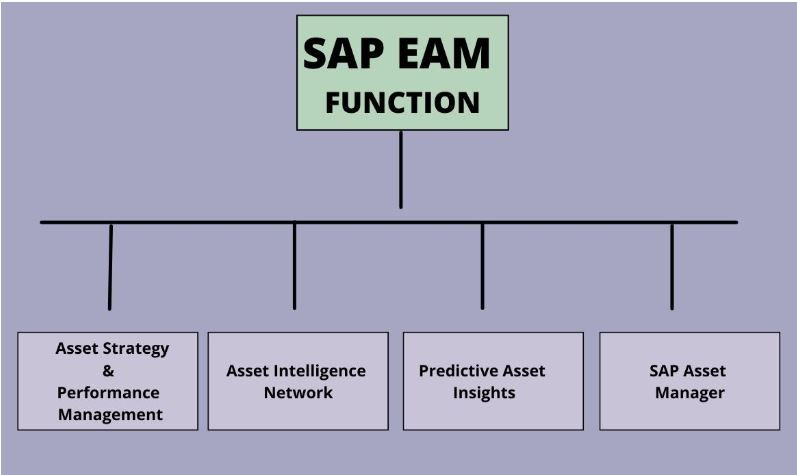 SAP Asset Strategy and Performance Management
Managing asset information
Effects analysis and failure modes
Optimization of maintenance and performance management strategies
SAP Asset Intelligence Network
Equipment tracking automation
A centralized repository for handling business data
SAP Predictive Asset Insights
Enhance asset availability using Io T and machine learning technology
Advanced predictive analytics of physical assets
A comprehensive view of all assets
SAP Asset Manager
Work order and mobile asset management
Cloud-based deployment
Advantages of SAP EAM
SAP EAM maximizes asset management processes and their use. It also offers added security for your assets.
The benefits of SAP EAM include –
Offers real-time visibility to companies for viewing their plan floor operations
Helps to enhance operational efficiency
Asset lifecycle management along with reducing costs, handing environment and safety concerns
Leverage your investments and improve return on investment for all assets
Assists companies to perform safety checks and ensure safe working conditions
Full support for capital projects management and asset portfolio
Companies can integrate this software with their business operations. This gives them an edge over production operations
This reduces paperwork by streamlining many official processes
A simple user interface and enhanced user experience across multiple devices
Measure the quality of production operations
Challenges Before EAM
Most EAM tools and techniques need a lot of data for tracking and analysis. This is important for evaluating business processes. But in some cases, this data capturing process gets a bit expensive. This, in turn, reduces the ROI and slows down applicability. Along with this deployment, times are hampered too. This is a problem commonly faced by companies using SAP EAM.
This situation may occur when SAP processes are not correctly interlinked with other departments. This may include HR, Purchase and Production department. So, companies using SAP EAM are not able to get asset management solutions and bottom-line figures. This can affect the overall asset management process.
Conclusion
SAP EAM software products can be integrated with the production operations of any business. This helps companies ensure that their assets are running in peak performance. This also helps in running better maintenance schedules. Maintaining assets also let officials safeguard their employees from any risks in the workplace.