Definition -What is SAP OFFICE Application?
SAP Live Office - a valuable add-on for Microsoft Office tools and applications, gives users easy and reliable access to up-to-date information stored in SAP business objects and their intelligence platforms. SAP Office allows professional users to integrate the queries coming in from all SAP based objects linked to Microsoft Office documents and helps them get their data and other relevant information in a familiar environment.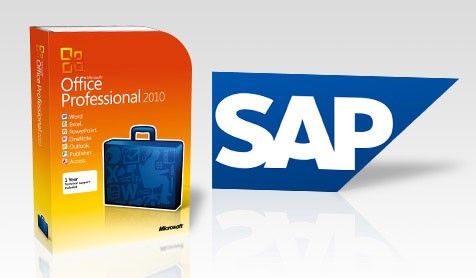 Going a long way in helping consultants, team managers, project members, functional consultants and other SAP professionals re-use and update documents and their presentations with smarter and refreshed data; SAP Office delivers up-to-the-minute intelligence in business specific MS office documents. With Business Intelligence being directly integrated in familiar MS Office environments, users are allowed to embed refreshable, trusted information from all kinds of data sources into their spreadsheets, documents and presentations - therefore making it easier to share their insights across the entire organization.
Reduction in IT workload by making it convenient for users to get access to relevant information.
Extension of BI platform security to MO applications.
Lowering of BI delivery expenses by reusing content and accessing large sized MS Office user bases.
Faster updates with valid information that manages to refresh directly within user documents.
Easy handling of messages in Microsoft Outlook by handling the firewall and adding BI directly to e-mail applications.
Comprehensive integration of SAP with PowerPoint, Excel, Word & Outlook.
Share trusted databases for collaborative decision-making tasks while maintaining the highest levels of security.
Eliminate time-wasting discussions over data accuracy.
Decrease IT involvement and bring about improvements in business users' self-sufficiency.
Support confidential business decisions that are based on accurate, real-time information.
Decrease their cost of delivering BI by competently leveraging the existing BI metadata and content.
Share the results of reports and queries with other users over the web or intranet, in a secured manner.
Publish reports that are specifically designed for the SAP (System Application & Products ) platform and access office documents with real-time data feeds over the internet.
Lower the percentage of user acceptance for querying and reporting purposes by using more accurate end-user tools.
AP Office is increasingly helping businesses retrieve valuable information, perform calculations, create queries and share answers to queries; without having to go through complicated database languages or structures. It also helps in embedding up-to-date web intelligence information and SAP Crystal Reports into spreadsheets, presentations, emails and other documents with ease. With the ability to create system generated summary reports and queries, this SAP module relies on real-time information that is stored in SAP business components.
More and more SAP based companies are looking for consultants and professionals who are well versed in using the many features, benefits and functionalities of SAP Office. With attractive pay packages, bonuses and job positions in the store, this SAP module is the right way to go.
Explore the many opportunities provided by a certification course in SAP Office and climb the ladder of success - today!