Definition or Meaning - What is SAP PP?
Full form or SAP PP stands for (Production Planning) generally encompasses the integration and streamlining of the varied needs of a manufacturing enterprise and takes care of the proper planning of its allied processes. Globally, the main function of a production department is to produce reliable goods and services for end user consumption - the cost effective and effective way. In this regard, a smartly conceived and well organized production department is of utmost importance for higher productivity and profit making figures alike.
Production planning functionalities generally include:
Planning of schedules
Dispatching inspection
Co-ordination and control of raw materials, employees and tools for achieving high quality products and meeting customer demands.
SAP Production planning tools are well equipped for enabling all the Master Data and making them readily available for advanced decision making tasks.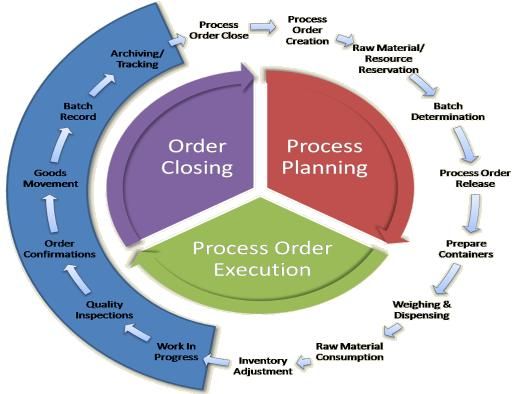 SAP Production Planning (PP) is composed of the following components
DM (Data Management)
LTP (Long tern planning)
MRP(Material Requirement Planning)
MPS (Master Production Schedule)
SOP (Sales Operation Planning)
Bills of Material (BOM)
Shop Floor Control
CRP (Capacity Requirement Planning)
Automatic material requisitions on the basis of MRP
Capacity planning
Routings
Information systems and so forth.
These SAP PP components make it easy to streamline the smaller details of the manufacturing process and can appropriately record and track planned costs, material flows and actual costs to perfection. This module is totally integrated with other SAP modules like:
SAP PP handles all business processes relevant to the production of a manufacturing unit. Here, the R/3 system modular data is appropriately classified as transaction data and master data; where the latter is defined in the form of individual module objects. These PP Master Data objects must be used prior to the use of transactions.
Scope and Opportunity of a Career in SAP PP (Production Planning)
A career in SAP PP requires the following basic skills:
Degree from a recognized institute/ university and a good educational background.
Basic knowledge of information and computer applications.
Prior knowledge and hand-on experience (optional but beneficial) of production planning and ERP tools
Training in this SAP Module is best suited for project team members, business analysts, IT staff, inventory managers, managerial staff in the department of production and purchasing, consultants, trainers and so forth. After receiving a certification in this course, they can perform their tasks with the help of SAP PP tools and software applications –in an accurate and efficient manner.
Become a Certified SAP PP (Production Planning) Consultant
In the current scenario, there is an urgent requirement for SAP PP Certified professionals. As only 7 out of 10000 Indian professionals are having an expertise in SAP PP, there is a huge demand of entrants as well as experienced people in this field.
SAP PP (Production Planning) module certification can help candidates aspire for the lucrative job positions of senior consultants, SAP PP Consultants, assistant managers and senior level managers.
In India, the most popular locations for SAP PP professionals are Delhi, Gurgaon, Mumbai and Bengaluru. Mahindra and Mahindra, Hindustan Unilever, Tata Consultancy and Jindal Steel & Power are some of the top paying companies that are helping freshers embark on their careers. With attractive pay packages averaging in the range of 2.8 lacs p.a. to 5.14 lacs p.a. for fresh entrants with nil experience, this SAP module is indeed worthy of a look.
The top paying companies that are attracting SAP professionals with over 7 years of experience in their bag are: Promed Exports with a package of 50 lacs p.a. and Huawei Telecommunications with 30 lacs annually. These and other companies in the fray are known for paying huge bonuses and boast of a 17 percent increment in salaries after a year of experience.
So, gear up to unleash the powers of SAP PP and take your career to the next levels of success - today.
Read Next