Definition -What is SAP Predictive Analytics?
With the emerging trend of technology running business is becoming more easier suitably exploring the opportunities and hidden risk for better future growth. Making accurate futuristic prediction about business by carefully sorting the data and discovering untapped opportunities is what SAP Predictive Analytics proffer into. It is developed software which work closely with data environment and SAP platform data source. With a customized feature of SAP Predictive Analytics software enables a user to extend functionality by adding their own R scripts. Whatever business you owe the software helps to gain unprecedented insights so you can avail good business functionality. To extend the current analytics capabilities and skill set the software offer a complete extracted data and visualize the unseen risk to operate successfully.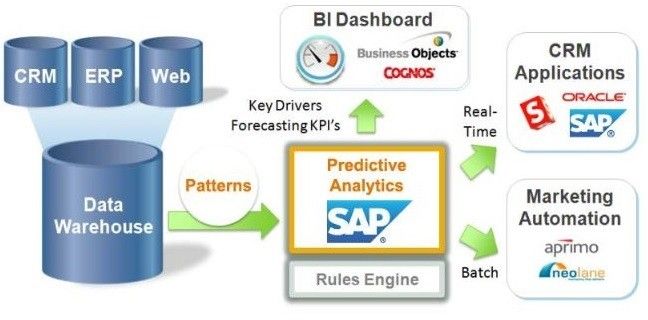 Successful prediction of future insights delivering more profitability
With real-time predictive Analytics you can succeed in future, no matter what business you are into. To sustain in this competitive world and for being successful companies have realized how well they can use predictive Analytics across business processes and applications. With this software company can predict to get insights of better understanding the business and it can act as a guide to business when it comes to decision making and making business more profitable.
Fast, reliable, accurate predictive results with automated tools
Data preparation is the first and former step of building a predictive model and SAP Predictive Analytics tends to make the process faster and easier by automating it. Analytical engine processes the transformed data into a format before building a predictive model. Data preparation in yesteryears or traditional data usually involve much time as it tends to have many activities which are manual repetitive and prone to human error. SAP Predictive Analytics is far better than the traditional approach of data preparation and is faster generating more accurate results.
Easy connectivity to unstructured sources
Wide variety of application has data stored in them and SAP predictive analytics has an advantage that it can be connected to almost any data source which also include unstructured source, files like SAS, SPSS and more text files. The environment offered by SAP predictive analytics is very useful to users at many levels.
Variety of solution for single problem
The individual variable contribution is graphically displayed assisting you to select variables affecting business. With higher productive solutions for a single problem enable SAP predictive analytics to offer a variety of scenarios with real-time improvement in the model. Being social and recommendation functional this software enables to personalization and influence socially with strong networks and links. To reveal the most recommended relevant product you can use this software to create graphs for every product and selecting the right weighting to apply to each rule set thereby revealing the correct unmatched score.
Assist in examining consumer behavior for profitable results
With real-time insights offered by SAP predictive analytics an organization can tend to examine the behaviour of customers and help to improve your response towards them delivering tangible business value which further delivers out most profitable returns to the organization. With automation and proper managing of models this software ensure to deliver insights in real time enable to take correct decisions which are more profitable and healthy for the organization.